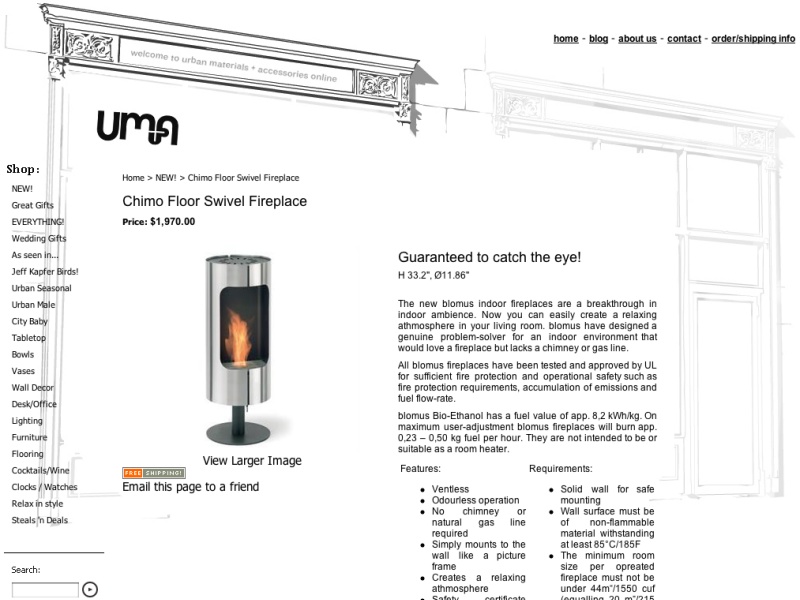 Guaranteed to catch the eye!
The new blomus indoor fireplaces are a breakthrough in indoor ambience. Now you can easily create a relaxing athmosphere in your living room. blomus have designed a genuine problem-solver for an indoor environment that would love a fireplace but lacks a chimney or gas line.
All blomus fireplaces have been tested and approved by UL for sufficient fire protection and operational safety such as fire protection requirements, accumulation of emissions and fuel flow-rate.
blomus Bio-Ethanol has a fuel value of app. 8,2 kWh/kg. On maximum user-adjustment blomus fireplaces will burn app. 0,23 – 0,50 kg fuel per hour. They are not intended to be or suitable as a room heater.
H 33.2″, Ø11.86″
Features:
Ventless
Odourless operation
No chimney or natural gas line required
Simply mounts to the wall like a picture frame
Creates a relaxing athmosphere
Safety certificate available upon request
Flame size is adjustable with included tool
Shipment includes: mounting hardware, a funnel and measureing jug, a sliding tool to adjust the flame and closing the burner to shut off the flame and a detailed instruction manual
A full reservoir burns for app. 2-4 hours, depending on the flame size
Requirements:
Solid wall for safe mounting
Wall surface must be of non-flammable material withstanding at least 85°C/185F
The minimum room size per opreated fireplace must not be under 44m"/1550 cuf (equalling 20 m"/215 sqf room size with a ceiling of 2,20 m/7,2 ft)
Room should be well ventilated
Local regulations may apply
Wall space must be large enough to meet all safety distance requirments as listed in the instruction manual